Five reasons for a "clean" planning
Published at 01.03.2015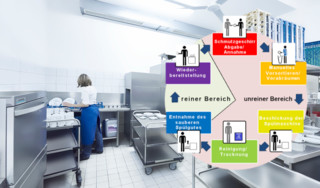 Frankfurt / Germany, March 2015 – At first glance, clean dishes are a matter of course. When looking closer, a complex cycle of wash ware unfolds, which raises a wide variety of questions. The AK GGS provides clarity with its compendium of practice.
"The aim of our work is to simplify everyday work. With the compendium of practice, we offer end users, associations, advisory and standardization organizations and planners application-oriented tips and decision-making aids in order to achieve the best results in commercial dishwashing," explains André Funke, chairman of the AK GGS.
The AK GGS has now published two of the 13 chapters of its compendium of practice. They are available for download at www.akggs.de/en/compendium-of-practice.
Five reasons for "clean" planning
The chapters "Organization and planning of dishwashing systems" and "Hygiene" get the basics straight. It is not only costs and time that a well thought-out sink area saves from the start; employees, end consumers and the environment also benefit. Both chapters give helpful tips on what to look out for when planning a new warewashing system and how you can optimize the washware cycle in existing systems with simple means.
1. Hygiene
Hygiene begins with the physical separation of the areas with clean and dirty items to be washed. Good planning avoids crossing the transport routes, which harbors the risk of germ transmission.
In particular, the "Hygiene" chapter provides a clear view of the jungle of guidelines. For example, standards relevant to hygiene such as the importance of the new DIN SPEC 10534 has been deciphered in practice.
2. Motivation and well-being of employees
60 to 80 percent of the running costs in a scullery are personnel costs. Ideal framework conditions for effective work not only save time and money, but the consideration of ergonomic and climatic aspects has a lasting positive effect on the motivation and well-being of employees.
3. Investment with long-term effect
Only a machine that meets the customer's requirements in terms of operation, performance and equipment and that fits in with the concept of the operation in terms of energy technology pays off in the long term. Checklists and guide values ​​in the second chapter of the compendium of practice help determine the performance and to decide on a dishwasher with the right dimensions.
4. Reduction of operating costs
With the compendium of practice, the AK GGS supports the uncovering of optimization potentials in the operating costs. The chapter "Organization and planning of dishwashing systems" shows, among other things, the possibilities offered by energy, chemical and water-saving systems.
5. Minimizing the ecological footprint
Only the perfect coordination of water, process chemicals, temperature, a correctly dimensioned system and optimized processes achieve perfect results under hygienic and economic aspects. In addition, a flushing system planned in this way makes a valuable contribution to conserving resources.
(Photo credits: Winterhalter photo, Hobart graphic)