The AK GGS continues to grow
Published at 01.03.2015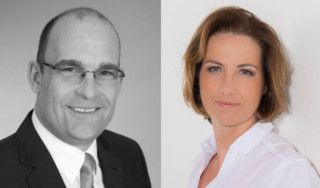 Frankfurt / Germany, March 2015 - AK GGS, founded in 2013, continues to grow. As an independent association of all industries involved in commercial dishwashing, it endeavors to increase the compatibility of the individual components and thereby realize optimization potential in commercial dishwashing.
Well-known manufacturers of commercial dishwashers, water treatment devices, cleaning products, dosing technology and wash ware as well as the supplier industry have been working closely together since the foundation to provide practical recommendations, e.g. for end users or planners and to simplify the fulfillment of European and international standards. With BWT water + more, Stockmeier Chemie and W.A.L. Water technology, three other companies have been active in AK GGS since January 2015 and contribute their expertise.
New board
As part of the general assembly, the rolling chairmanship was re-elected for one year. Rüdiger Nübling (Hobart) as chairman and Marion Zwingenberger (Chemische Fabrik Dr. Weigert) as deputy had accompanied the intensive start-up phase. Above all, they set the course for the publication of the compendium of practice, the heart of the work of the AK GGS. Grateful for the work done, the new chairman André Funke (Ecolab) and Dagmar Wienböker (Winterhalter Gastronom GmbH) will take over the management of the working group as deputies. The first chapters of the compendium of practice will soon be available for download.
The following member companies are currently involved in the work of the AK GGS:
ARC INTERNATIONAL Food Service, BRITA Professional GmbH & Co. KG, BWT water + more GmbH, DR. SCHNELL Chemie GmbH, Chemische Fabrik Dr. Weigert GmbH & Co. KG, Diversey Deutschland GmbH & Co. oHG, Ecolab Deutschland GmbH, Hobart GmbH, Miele & Cie.KG, ETOL-WERK Eberhard Tripp GmbH & Co OHG, Presswerk Köngen GmbH, Herbert Saier GmbH, Stockmeier Chemie GmbH & Co. KG, WAL Wassertechnik GmbH, Winterhalter Gastronom GmbH, WMF AG.
The AG GGS also receives organizational support from the following associations:
IHO - Industrieverband Hygiene und Oberflächenschutz für industrielle und institutionelle Anwendung e.V. (Industrial Association for Hygiene and Surface Protection for Industrial and Institutional Use); ZVEI - Zentralverband Elektrotechnik- und Elektronikindustrie e.V. (Central Association of the Electrical and Electronics Industry); VKI - Verband Keramische Industrie e.V. (Association Ceramic Industry)