Book announcement "compendium of practice for Commercial Dishwashing" - Chairmanship confirmed
Published at 21.05.2021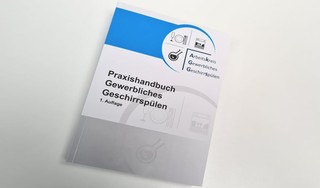 On the occasion of the general meeting of the "Working Group for Commercial Dishwashing" on March 25th, 2021, there are two news from the working group: The "Practical Manual for Commercial Dishwashing" was published as a comprehensive specialist book. Miss Dr. Britta von Esmarch-Rummler (Miele Professional) and her deputy Mareike Lohmann (Chemische Fabrik Dr. Weigert) were again unanimously re-elected.

The management duo is a well-coordinated team that has led the working group successfully and in a future-oriented manner since 2017. Both in the past few years and in the next term of office, the two elected women on the board have been working hand in hand and dealing with all issues relating to commercial dishwashing.

The latest, currently completed project is the book publication of the "Practical Handbook Commercial Dishwashing" by Shaker Verlag. This specialist book provides extensive, technical background knowledge, practical information and valuable know-how for the field of commercial dishwashing. The book comprises a total of 12 chapters ranging from definitions, planning and organization to requirements for different items to be washed, commercial dishwashers and process chemicals. In addition, the textbook functions as a practical tool and well-founded source of literature on questions about items to be washed, hygiene, dosing technology, water quality and sustainability. It can be ordered under ISBN number 978-3-8440-8014-8.

For the next two-year term of office, the management duo of Dr. Esmarch-Rummler and Ms. Lohmann have already planned other things, such as an English translation of the recently published "Compendium of Practice of Commercial Dishwashing" or the development of further industry-specific technical information, including on the subject of "grease traps".

Dr. Britta von Esmarch-Rummler: "I would like to thank my colleagues in the working group for the renewed confidence they have shown. The working group is a useful initiative for networking industries and provides users with cross-sector information. The publication of our manual is a milestone in the work of the working group. The practical manual for commercial dishwashing provides readers with bundled background knowledge for a better understanding of the various challenges in daily work."