New chairmanship in the AK GGS
Published at 01.07.2017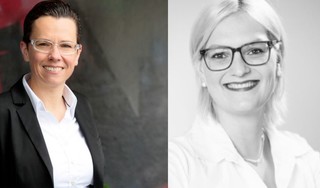 During the general meeting, the rolling chairmanship was re-elected for the next two years.
The new chairwoman is Dr. Britta von Esmarch-Rummler (Miele Professional), Mareike Lohmann (Chemische Fabrik Dr. Weigert) was elected as her deputy. Miss Dr. von Esmarch-Rummler and Ms. Lohmann succeed Mr. André Funke (Ecolab) and Ms. Dagmar Wienböker (Winterhalter Gastronom), who have pushed the completion of the compendium of practice in the last 2 years.

Currently 10 of 12 chapters have already been published, the complete compendium of practice for commercial dishwashing will be completed at the end of 2017 and will then also be published as an eBook.