In the Industrial Association for Hygiene and Surface Protection for Industrial and Institutional Applications e.V. (IHO), the manufacturers of cleaning, washing, and disinfecting agents for professional and industrial use are organized. Since 1992, the association has represented the interests of its members, most of whom are small and medium-sized enterprises. Their products are of great importance to society, for example regarding consumer and health protection, food safety or ensuring hygienic standards in public spaces.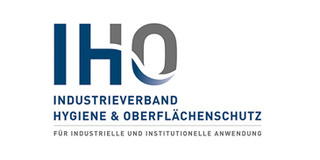 The products and services of the member companies are used in a wide variety of areas to ensure hygiene, care and protection of people, animals, and assets. Various fields of activity raise different topics which are addressed by the association. These topics can be cross-industry, or they can specifically concern individual sub-markets.
IHO member companies take the issue of sustainability and responsible action seriously. The concrete aim is to improve the protection of people and the environment. This includes, for example, voluntary commitments to refrain from using certain raw materials, to observe the maximum conservation of resources in production, packaging, and the use of products.
With its bundled expertise, the association is the competent contact for the professional public, economge, authorities, politics, etc. The IHO participates in various committees and working groups on a national and European level to define and continuously improve standards. In order to do justice to the wide range of activities in the industry's fields of application, the IHO has six departments that deal with specific tasks: Commercial kitchen hygiene, building cleaning, health care, food production and processing, laundry technology and metal industry and technical cleaning. Issues are dealt with by the departments mentioned above, if necessary, with the support of project groups or other committees. The Technical Committee, the Biocides Working Group, and the Medical Technology Working Group deal with cross-cutting issues.
The association's work consists of various services and service offers for the members. These include, for example, observations of developments and trends in the market, as well as the active participation in the creation and processing of standards, norms, technical regulations, etc. One of the central activities of the association is to contribute to framework conditions by providing expert support for legislative activities at the national and European level. This ensures that the companies act in the best possible way in the industry.
Another important part of the association's work is providing information and advice to member companies. On the one hand, this involves interpreting and assisting in the implementation of regulations and creating a basis for opinion-forming. On the other hand, it is about providing information about changes in the general conditions, technical developments, etc.