Presswerk Köngen GmbH is a German subsidiary of CAMBRO MANUFACTURING COMPANY, which was founded in 1951 by brothers Bill and Argyle Campbell. Bill invented the Camtray® and Argyle sold this tray to the American Hospital Supply Corporation. Camtray trays soon became very popular in restaurants, hotels, schools and cafeterias and became the industry standard.
Since then, Cambro has offered the most comprehensive line of food trays in all sizes, shapes, colors and materials. Bill Campbell's creativity provided the impetus for the development of new products.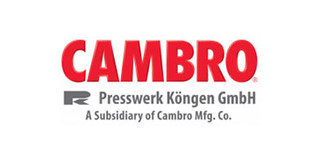 Cambro is committed not only to the quality of its own products, but also to quality in the foodservice industry in general.
Cambro celebrated its 65th anniversary in 2016 as a leader in quality, innovation and customer service, and today offers the most comprehensive range of products for diverse segments of the foodservice industry around the world.
Since its inception, the company has seen numerous changes, including a greatly expanded product line, new manufacturing and distribution methods, and an increasing focus on issues such as environmental responsibility. From a single factory in California, Cambro has grown into an international presence with manufacturing operations and sales offices in the U.S., Europe, the Middle East and Asia. Today, Cambro offers not just one product, but a comprehensive line of trays, table service, presentation and storage products, shelving units, merchandise display and heat-insulated transport products, as well as innovative dishwashing systems and food delivery solutions for the healthcare industry. For sure, the future will bring great changes for our industry.