Saier Dosiertechnik GmbH is an innovative, medium-sized, third-generation family-owned business based in Gundelfingen near Freiburg, Germany.
Established in 1927, today Saier is one of the leading European suppliers of liquid dosing technology for chemical products.
Saier products have a wide variety of uses in building and floor cleaning, textile cleaning, water treatment and many other applications.
Especially in the commercial dishwashing segment, Saier's innovative solutions have a long history of success.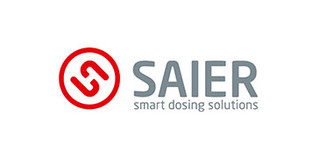 Herbert Saier GmbH started out as the first company in Germany to produce electrical conductivity controllers for regulating the concentration of detergent products in dishwashers, as well as dosing tube pumps for this application.
High-quality dosing tube pumps with an excellent price/performance ratio for undercounter, glassware and hood-type dishwashers form one end of the product range. At the other end are dosing systems for detergents, rinse aids and additives. These are used in conveyor rinsers, crate washers and bottle washing machines. They record fault events, display conductivities and temperatures of the washing liquor, and can be read out and configured via a laptop. We also produce conductive and inductive conductivity sensors, as well as industry-specific accessories such as suction lances, non-return valves and tank inlets.
An increasing number of products are even smarter and can be controlled wirelessly. The result is "smart dosing solutions" that bring additional benefits for users.
Depending on current needs, the data can be transferred via an interface into a user-managed database. Alternatively, software solutions by Saier are available – the Saier System Center (SSC) and Saier Device Database (SDDB).
These systems instantly deliver customisable reports, notifications and alarms, and they enable service-friendly remote maintenance and configuration.
At Saier, we are all about results.
In an increasingly complex world, we love to meet our customers' diverse requirements effectively. To achieve that, we supply tailored dosing solutions. Whether standard or customised models, our products are impressively robust and cost-effective.
Our focus is on values and respect for people and our planet. At Saier, we believe in approachability, openness and fairness – this positive energy generates innovations and made-to-measure solutions, delivers results that delight, and strengthens the bonds between all of us at Saier and our customers.
Our technical products and solutions create benefits for everyone.
Technology is there to serve people, and not the other way around.