About WMF Professional
WMF Professional as a brand of proHeq GmbH is one of the leading providers of professional equipment for hotels and the catering industry. The key strength of this long-established business unit professional hotel equipment is its innovative, painstakingly crafted and stylish all-in-one solutions covering every aspect of food and drink, from preparation to serving. The extensive product range includes cutlery and glassware, serving and buffet equipment and table decorations in every colour.
For more than 160 years, WMF has been dedicated to achieving the perfect balance of design, functionality and quality. Our employees are passionate about bringing people together, whether at home, on the move or at fine-dining establishments, in order to give them shared moments that are both precious and delicious. All this with products which have outstanding design, perfect functionality and excellent quality to make every culinary experience a real joy.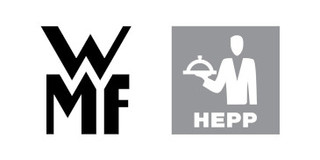 About HEPP
The brand HEPP with its headquarters in Birkenfeld near Pforzheim, is one of the world's leading suppliers for the perfectly laid table. The company manufactures the broadest range of tableware and serving pieces anywhere in the world using highly specialised production techniques – from coffee pots and chafing dishes to food distribution systems. The focus is on the materials and processing, but HEPP products also meet the highest of requirements in terms of design, quality and usability.
It was with this in mind that the company was first founded in 1863 by brothers Carl and Otto Hepp, who can rightly be considered the inventors of hotel silverware. Traditional values such as reliability and quality are just as important today and form the basis for the success of the company alongside innovation, the development of new techniques and products and flexible production. HEPP is one of the world's major suppliers of leading hotels, hotel chains and restaurants, as well as quality-conscious bulk caterers, international cruise ship operators, airlines and railway companies.