etol Eberhard Tripp GmbH - a family-owned, medium-sized company from the heart of the Black Forest - was founded in 1946 in Oppenau near Lierbach, where the family business is still headquartered today. The company comprises a total of three divisions which are closely connected with each other: Cleanliness and hygiene, plastics technology and health care and pharmaceutical products, all products made in Germany.
etol was one of the first suppliers of cleaning agents and rinse aids for commercial use in Europe and has firmly established itself as an innovation leader. Since the beginning etol has been in close contact with users, dishwasher manufacturers and specialized dealers - only through this intensive dialogue hygiene with system can be realized.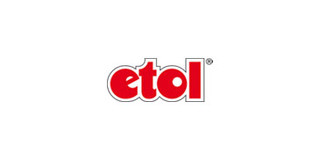 The most important criteria of a scullery are certainly of particular interest for etol: Hygienic cleanliness and absolutely brilliant dishes. etol supports commercial canteen kitchens for more than seven decades to achieve these important goals - and as efficiently as possible. After all, economy is also decisive for the success of a commercial canteen kitchen.
etol's range of products includes a wide variety of cleaning products as well as an excellent service package with integrated concepts and competent advice, all targeted to the individual needs of the customer. A detailed analysis at the customer's site enables etol to ensure that detergent, dosing technology and operating procedures are perfectly coordinated, so that the best washing results can be achieved and everything works properly.
Sustainability, reliability and quality are the standards you can measure etol products by. The consequent implementation of these values in research and development has led to the fact that etol today, with the detergent brand etolit, is one of the pioneers in the production and distribution of cleaning agents for commercial kitchens. According to the own standards and values the product series etolit green was developed - an innovative and successful program, which does not contain any polluting substances like chlorine, phosphates and NTA. It is the first compact cleaner ever to be awarded with the EU Ecolabel - an eco-certificate known for its strict criteria. etolit green scores in all areas: The raw materials used and the manufacturing process are particularly environmentally friendly, and the cleaning performance is outstanding.