Chemische Fabrik Dr. Weigert GmbH & Co.KG has been developing and producing cleaning and disinfection solutions for professional kitchens and in the laboratory technology, medical technology, pharmaceutical and food industries for over 100 years. Dr. Weigert is an independent family-run company with production facilities in Hamburg and was established more than 100 years ago.
As a medium-sized company, Dr. Weigert has been a leading player in the development of professional system solutions for automated cleaning and disinfection in laboratory and medical technology, in the commercial kitchens sector and in the pharmaceutical, cosmetics and food industries for several decades. Dr. Weigert operates at international level, enabling it to respond quickly and flexibly to the needs of the markets.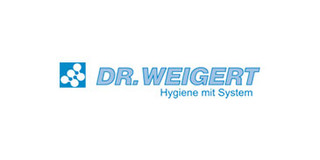 To eliminate hygiene risks while also perfecting washing results and ambient and personal hygiene, Dr. Weigert views the hygiene process as a whole and always pursues the best mix of effectiveness, economy and efficiency. This is ensured by innovative products, sophisticated dosing and control technology and a wide range of services.
As a company that has been a fixture in the hygiene sector for over 100 years, we know from experience that long-term success can be achieved only by thinking and acting in a sustainable way. That is why issues such as environmental protection, social responsibility and our attitude to our employees matter so much to us. As a developer and manufacturer of cleaning agents and disinfectants, we feel particularly obliged to apply maximum environmental awareness to our production and our products themselves. Our protective measures and environmental programmes go above and beyond the minimums prescribed by legislative regulations. The Dr. Weigert range naturally includes eco-listed and eco-certified products.
Resting on our laurels is not an option for Dr. Weigert. With this in mind, the principle of continuous improvement is lived out in all departments at Dr. Weigert. From Research, Product Development, Analytics and Microbiology to Application Engineering and Service – Dr. Weigert employees never stop thinking ahead in order to find customer-oriented solutions and implement them on a lasting basis.